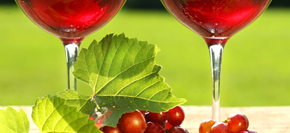 Our Seasonal Favorites
Before the summer slips away, raise a glass to hot August nights – and their perfect wine pairings. A good summer wine should be light, bright, affordable and enjoyable whether you're on the beach, on the go or at the grill.
---
CHARDONNAY
The most popular white grapes in the world. The styles range from rich, full and oaky to lean, crisp and flinty depending, with flavors of apples, melon, and tropical fruit gracing the palate.
Try...
Kendall Jackson Chardonnay with lobster or scallops.


MERLOT
Less tannic than Cabernet Sauvignon, it can be fresh and grapey with tender tannins and aromas of cherries, or it can be deep, dense, and concentrated with massive mouth–feel.
Try...
Blackstone Merlot with salmon or burgers.


SYRAH
Also known as Shiraz, this grape is heavily pigmented, tannic, and alcoholic. Fruit–driven with aromas of blackberry, along with rosemary, thyme, pepper and anise.
Try...
Rosemount Shiraz with game or charred foods.