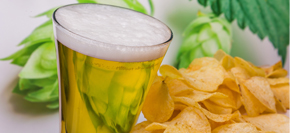 Our Seasonal Favorites
Freshly harvested wheat and locally–grown fruits create a variety of thirst–quenching brews in the hotter months.
---
HEFE-WEIZEN
A German–style wheat beer brewed for a crisp, smooth flavor and fruity/spicy esters like banana and clove.
Try...
Frankenmuth's Hefeweizen Ale, a fruity brew with banana notes and a hint of clove and citrus. A refreshingly pale south German-style wheat ale that is unfiltered and lightly hopped to achieve a smooth, pleasant flavor and signature cloudy appearance. Great with fruit, cheeses, seafood and sushi.


BELGIAN WIT
Wheat beer brewed with raw, unmalted wheat, orange peel, coriander and a special Belgian yeast strain.


SAISON
Unique French/Belgian style, characterized by a citrusy fruitiness, a slight peppery flavor, and a noticeable tartness. This beer is enhanced by wheat, spelt, honey or spices.


FRUIT BEERS
If it's a local fruit harvested in a Midwest summer, it has probably found its way into one of these light and refreshing beers. Two or more fruits can be combined for various effects.